Learn More
"We had a family come visit our school to see if our district was right. As soon as we mentioned MovingforGood on our site, they secured the perfect local Realtor who found them a great home. We picked up a new student and a neat cash donation. Thanks MovingforGood!"

"Our existing shopping widget got us pennies back on book and backpack purchases. Now with MovingforGood we are earning higher percentages on things that really add up. Homes in our community!"

Moving For Good's charitable campaign concept comes from a simple idea- REALTORS Love Referrals!
When agents find themselves committed to worthy causes, its easy to REward supporters with the same relocation benefits many employers use to ease the financial burden of moving.

Our organizers asked a simple, challenging question; If BILLIONS are spent yearly on dues, subscriptions, advertising and referrals, why can't we find a portion to support worthy organizations right home in our own communities?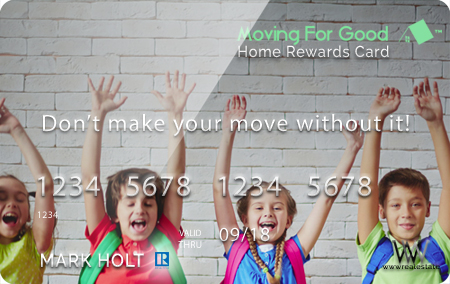 Questions on enrolling your charitable cause or concern in the program?

Contact us at
(877) 525-6673
GETSTARTED@MOVINGFORGOOD.ORG